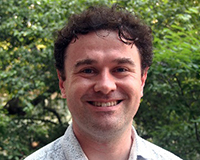 Dr. John Frew, the first Pioneer Award winner, from Rockefeller University, sat down for an interview with Vivli to share more about his research, the impact his findings are having on future clinical trial design and patient care, as well as his advice to researchers who were going to embark on a research project using individual-patient level data from completed clinical trials.
Congratulations on being named the first Vivli Pioneer Award winner. Can you tell us more about your research?
Thank you very much. Firstly, I'd like to acknowledge that this work is definitely a team effort. It would not be possible without our excellent statistical team: Neha Singh, Caroline Jiang and Prof Roger Vaughan; as well as our clinical research team Kristina Navrazhina, David Grand and Prof James Krueger, and, of course, Vivli and AbbVie, the data provider. Our research focused on Hidradenitis Suppurativa, which is a chronic inflammatory skin disease. Currently, there are very few approved therapies to treat it. There are also very few large-scale clinical trials that examine this condition. By going back and reviewing these large-scale clinical trials we can retrospectively look at the population with the condition we are researching.
The first aim of our research project focused on the utility of the outcome measures used in the completed clinical trials. We wanted to have a deeper analysis of the existing data sets on Hidradenitis Suppurativa prior to moving forward with expensive, long and large clinical trials and see if we need to reconsider the outcome measures used or develop new, or novel, outcome measures. We want to avoid the issue that have plagued clinical trials in this area that have failed due to their design.
The second aim of our research project was to look at the individual patient-level data to look at patient characteristics and see if they would inform response rates to therapy.
What were the results of your research?
In our recent publication in the Journal of the American Academy of Dermatology, our research showed that there were multiple outcomes measures for this disease and depending on which outcome measures were used, changed the efficacy of the treatment. We showed that additional confounding effects weren't being taken into account in those outcome measures.
This research was able to provide an evidence base for the anecdotal comments we had heard from dermatologists and immunologists about the what they were observing in patients with Hidradenitis Suppurativa.
What difference do you hope your research will make?
Actually, I was at a conference in Europe last month and a half a dozen speakers were citing my research as the basis for re-thinking trial designs and the outcome measures used and whether multiple measures need to used or a new one developed to take these findings into account.
In addition, I had a European counterpart come up to me and say how important it was to not only be asking the right questions but to have a large, reliable data set to interrogate with these questions. Having all this data available via the Vivli platform is a key tenet to evaluating the epidemiological aspects of this condition. This is beyond valuable.
What's next in your research?
These initial findings have validated our approaches to on-going analysis and confirmed that this work is more than "just re-analysis". This work is highly useful with high utility and direct clinical applicability in the design of clinical trials and patient care.
Developing an evidence base for the treatment of Hidradenitis Suppurativa is really in its infancy and so being able to stimulate a discussion about the best way to design clinical trials using data at the individual patient-level is invaluable.
It has also opened up new lines of enquiry for our work, particularly in terms of mechanistic biochemical studies that we are doing in the lab with tissues and considering new variables.
That's so exciting. Can you tell us more about the process of requesting data using Vivli?
I had never come across a concept such as the model that Vivli employs providing access in collaboration with companies who produced the data. It is a unique and fantastic opportunity. I found the user interface easy and logical to use. I cannot commend and recommend Vivli enough for the degrees of support and transparency throughout the whole process. It has been an absolute breeze. The data itself was of such a high quality. The clinical trials were developed to answer a very specific question but so much more can be done with the data beyond answering the original question it set out to address.
How did you find working in the research environment?
I think for me personally it was a bit of a learning curve. While I had a statistician that I worked with, it was largely me doing the coding from scratch. I was worried at first about the speed of access working in the secure research environment, but this was never an issue and I really appreciated the flexibility of being able to access the research environment from home and work.
I really loved the Chat function. It was so smooth to be able to ask the data providers and Vivli a question directly and to be able to get a response in a few hours was excellent.
What advice would you give to other researchers who want to request and analyze data via the Vivli platform?
Ask for help early and don't try to bang your head against a brick wall. Make sure you work closely with your statistician every step of the way. I originally extracted some data out of the original data sets myself and had to go back and re-do it after discussions with the statistician.
I can see now why Vivli has taken the need for a statistician into account at the very beginning and have thought that out. You just have to trust their system and follow it through.
Vivli launched its first data analysis challenge shortly after our launch in an effort to generate interest and move data sharing forward. The Vivli Pioneer Award was conferred to the first approved 10 data requests that initiate analysis. The lead investigators of these data requests received $1,000 awards. The Vivli Global Data Sharing Innovator Award will be conferred to the first 10 data requests that complete and publish their analysis in a peer-reviewed journal. The lead investigator of the data request team (or designated team member) will receive a travel award to enable presenting these results at a future global Vivli Data Sharing meeting.
The Vivli Pioneer Award recipients are:
John Frew, Rockefeller University
Vojtech Huser, National Library of Medicine/NIH
Akira Kimata, University of Tsukuba
Frederikus Klok, Leiden University Medical Center
Vivek Rudrapatna, UCSF
Changyu Shen, Beth Israel Deaconess Medical Center
Mirjana Stanic Benic, University Hospital Centre Rijeka
Sharon Straus, St. Michael's Hospital
Diane van der Woude, Leiden University Medical Center
Michael Ward, National Institutes of Health