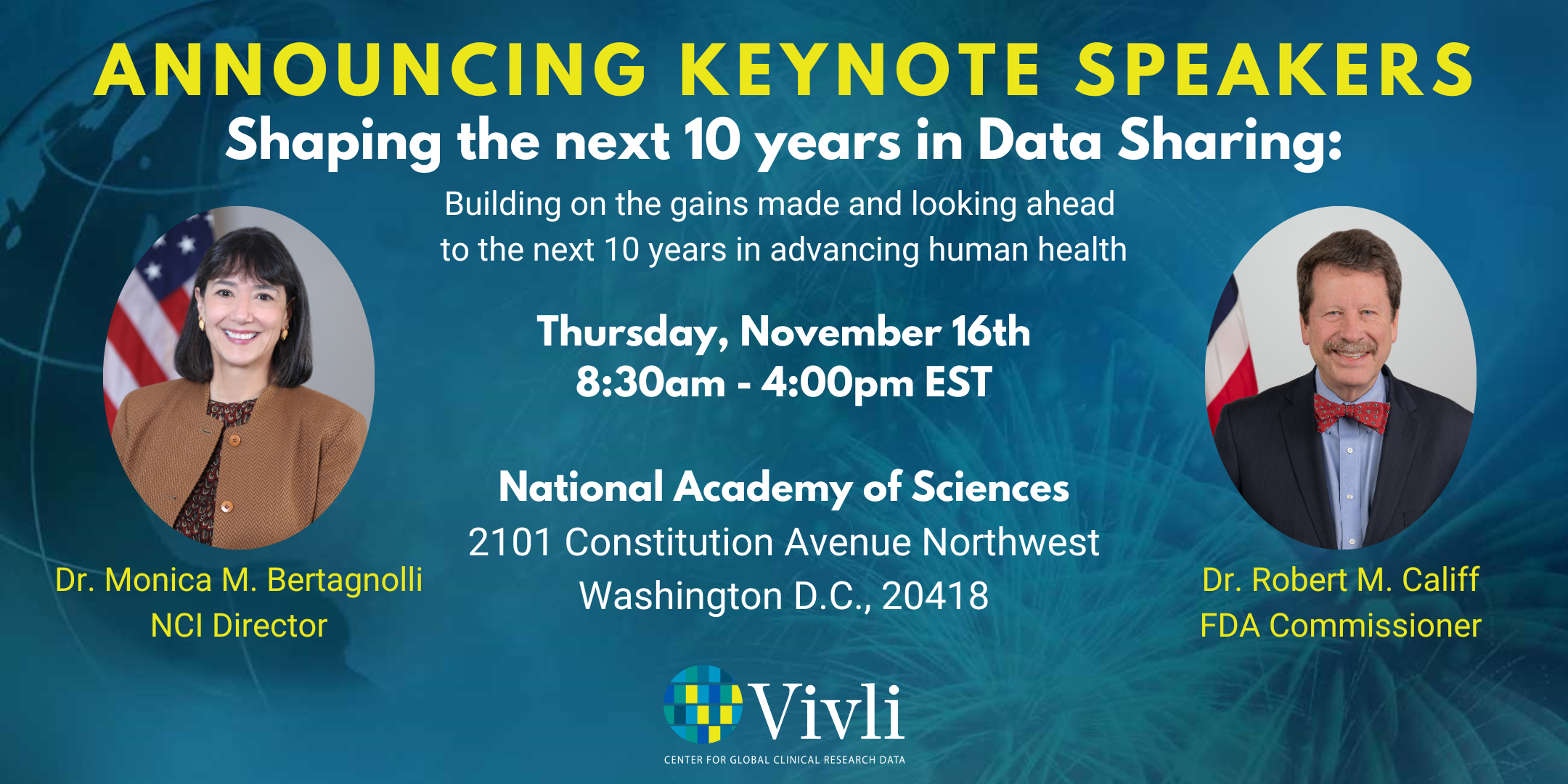 Vivli is delighted to announce the addition of two keynote speakers to the agenda for our upcoming event, "Shaping the next 10 years in Data Sharing." Dr. Robert Califf, FDA Commissioner, will address the meeting as the morning keynote speaker; and Dr. Monica Bertagnolli, Director of the US National Cancer Institute (NCI), will join as the lunchtime keynote speaker on Thursday, November 16th.
"Dr. Bertagnolli and Dr. Califf have extensively advocated for data sharing and we eagerly anticipate their insights next month on this important topic," said CEO Rebecca Li. "We are thrilled they will be joining us."
Bertagnolli and Califf will join a range of distinguished presenters and participants including researchers, data contributors, publishers, patient advocates, funders, and other interested stakeholders gathering to reflect on the gains made in the past 10 years of data sharing and set new goals and plans for the future.
Dr. Bertagnolli's lunchtime keynote presentation will be available to those participants attending in person. To be part of this conversation please make a plan to join us in Washington, DC on November 16. Registration is free, but spaces are limited – secure yours today!
Dr. Bertagnolli joined the National Cancer Institute as its director in 2022. Prior to that she served as the Richard E. Wilson Professor of Surgery in the field of surgical oncology at Harvard Medical School, a surgeon at Brigham and Women's Hospital, and a member of the Gastrointestinal Cancer Treatment and Sarcoma Centers at Dana-Farber Cancer Institute. She has also contributed to multiple initiatives focused on transforming the data infrastructure for clinical research.
Dr. Robert M. Califf was confirmed as the 25th Commissioner of Food and Drugs in 2022. He also served in 2016 as the 22nd Commissioner, and immediately prior to that as the FDA's Deputy Commissioner for Medical Products and Tobacco. He has spent a good portion of his career affiliated with Duke University, where he served as a professor of medicine and vice chancellor for clinical and translational research, director of the Duke Translational Medicine Institute, and was the founding director of the Duke Clinical Research Institute.