Join Vivli for a webinar to learn about how Machine Learning (ML) research approaches may be used in the context of clinical data re-use.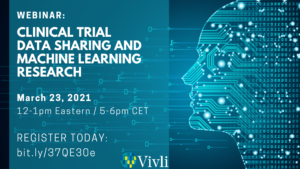 These approaches raise important questions and opportunities for data sharing. Panelists will provide an overview of machine learning including case studies from Vivli (a global data sharing and analytics platform) where we have received requests from investigators requesting to obtain anonymized data to utilize machine learning approaches to conduct secondary analyses of data. Challenges and legal issues will be presented, and panelists will reflect on opportunities to work together on these issues to continue to move forward towards scientific discovery.
Join us as we explore where ML fits in with the future of secondary analysis and how we can optimize its approach.
The webinar will be held on March 23rd at 9:00 am PT / 12:00 pm ET / 5:00 pm GMT.
Key topics to be covered:
Machine Learning research approaches, and its similarity and differences to other statistical methods
Legal issues around ML and how they can be overcome
Machine Learning case studies
Panelists include: 
Ida Sim, UCSF and Vivli
Abigail Gregor, Ropes & Gray
Daniel Freshmen, Ropes & Gray