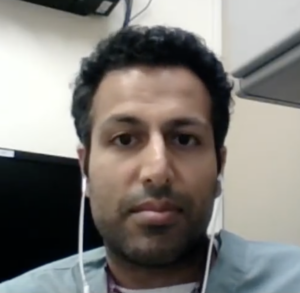 Dr. Neeraj Narula is an Associate Professor of Medicine and Staff Gastroenterologist at McMaster University in Hamilton, Ontario, Canada. His primary research focus is on inflammatory bowel diseases, including Crohn's disease and ulcerative colitis. Dr. Narula is particularly interested in the endoscopic assessments of these diseases and understanding how to better quantify inflammation. He has devoted his efforts to devising ways to measure inflammation that provide meaningful prognostic value rather than arbitrary numbers.
One of Dr. Narula's major contributions to research in this area has been the development of a scoring tool called the Modified Multiplier of the Simple Endoscopic Score for Crohn's Disease (MM-SES-CD). This tool aims to better quantify inflammation in Crohn's disease and provides higher weight to factors that are harder to heal. In contrast to previous methods, the MM-SES-CD shows great prognostic value and has shown potential in various clinical settings. Dr. Narula's other interests involve data sharing platforms like Vivli. He values these platforms as a unique resource that younger investigators can access, helping them to answer key questions without the need for large-scale clinical trials. He encourages young researchers to leverage these resources to build their research profiles.
Dr. Narula believes that these platforms need some improvement in search functionality, making it easier for users to find specific trials. He also notes that learning how to interpret the data can be challenging initially; however, once this obstacle has been overcome, these platforms can be an invaluable resource. Dr. Narula's ongoing research interests involve defining remission in Crohn's disease and creating a similar tool for ulcerative colitis to the one he developed for Crohn's disease. He is also working on validating the MM-SES-CD in unrelated datasets. He envisions these tools being incorporated into clinical guidelines in the future, ultimately improving patient care.
What led you to want to research this topic?
Inflammatory bowel disease (IBD) is a complex and multifaceted condition. While we have made significant strides in understanding IBD, there is still a lot to learn. The primary goal of this research was to delve deeper into patient response to various IBD treatments, to better personalize treatment plans and improve patient outcomes. The availability of an extensive dataset on Vivli allowed us to study patient responses in a more comprehensive manner than we might have been able to do otherwise.
What was your experience like in the process of requesting data using the Vivli platform? 
The process of requesting data through Vivli was straightforward and intuitive. The platform's design made it easy to navigate, request the necessary data, and receive prompt responses. Vivli's wealth of data provided an invaluable resource for our research

What is the current state of management in IBD? How was the data you accessed through Vivli able to help?
Current management of IBD largely involves a somewhat trial and error approach to medication. We aim to identify specific patient characteristics that predict response to particular treatments, enabling a more personalized, efficient approach to management. Access to data through Vivli allowed us to analyze a larger patient population and a wider variety of treatments than we would have been able to in a standard clinical setting.
How could your findings be used in future clinical trials on IBD? How can your findings be helpful in treatments for IBD patients?
We believe our research can help inform future clinical trials, guiding more efficient study design by highlighting potentially significant predictors of treatment response. Additionally, our findings can help clinicians make more informed decisions about treatment plans, ultimately benefiting IBD patients.
Would you use the Vivli platform again? What improvements would you recommend? 
Absolutely, the Vivli platform was instrumental in our research. In terms of improvements, perhaps a more detailed search functionality for the data could help researchers more quickly identify relevant studies. However, overall, the platform is user-friendly and efficient.
Please share any final comments about Vivli. What would you tell other researchers about doing this kind of analysis?
Vivli is a powerful tool for researchers in any medical field. The ability to access and analyze data from a vast array of clinical trials is truly invaluable. I encourage all researchers to consider using Vivli or similar platforms to enhance their studies, ensuring they have a clear research plan and question in mind to effectively leverage the available data.