Vivli launched its first data analysis challenge shortly after our launch in an effort to generate interest and move data sharing forward. We are delighted to announce the first Vivli Global Data Sharing Innovator and our Vivli Pioneer Winners.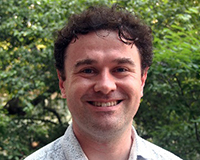 John Frew, Rockefeller University, is the first Global Data Sharing Innovator for his publication in the area of Dermatology. Dr. Frew will receive a travel award to present at the Vivli Annual Meeting on Nov. 18 in Amsterdam.
"Our congratulations to Dr. Frew," said Rebecca Li, Vivli Executive Director. "We look forward to being able to name more Vivli Global Data Sharing Innovators in the near future."
The Vivli Pioneer awards, granted to the first ten lead investigators whose data requests are successfully approved and have initiated their analysis, have also been named. They are eligible to receive $1,000. We are grateful to the Doris Duke Charitable Foundation for their initial grant in supporting these awards.
These winners are:
John Frew, Rockefeller University
Vojtech Huser, National Library of Medicine/NIH
Akira Kimata, University of Tsukuba
Frederikus Klok, Leiden University Medical Center
Vivek Rudrapatna, UCSF
Changyu Shen, Beth Israel Deaconess Medical Center
Mirjana Stanic Benic, University Hospital Centre Rijeka
Sharon Straus, St. Michael's Hospital
Diane van der Woude, Leiden University Medical Center
Michael Ward, National Institutes of Health
View of summary of the research requests to learn more about these research proposals.